NOV 21, 2018
SPOT UP – SCREENPRINTING BASICS
BBALL JUNKIES is hosting an informal workshop highlighting the basics of screen printing. I'll take you through an introduction to artwork (vector graphics), films and output options, screen preparations, pre-press, screen set-up and registration, plastisol inks, printing techniques, and curing parameters.  Date & Time on registration page (Duration: 3 Hours).
Location:  BBJ Locker Room – 3482 E. Orangethorpe Avenue Anaheim, California 92806
APRIL 14, 2018
KOHJIRO KINNO – A LIMITED COLLECTION OF BASKETBALL PHOTOGRAPHS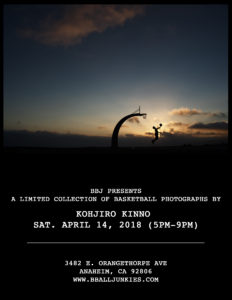 BBALL JUNKIES is proud to present a limited collection of basketball photographs created by Kohjiro Kinno.  All photographs will be available for purchase on site and online.  We'll also be printing limited edition t-shirts of one of Kohjiro's photographs.  Snacks and refreshments will be available.  Open for all ages.
About Kohjiro Kinno (@kohjiro_kinno):
Kohjiro Kinno (金野孝次郎)is a photographer based in Southern California. While not shooting sports related images for editorial and corporate clients, he surfs, shoots in the ocean near his home and practices kendo in the evening.  www.kohjirokinno.com
Location:  BBJ Locker Room – 3482 E. Orangethorpe Avenue Anaheim, California 92806 (5PM-9PM)